About the Practice
The Aubrey Dentist serves the residents of Aubrey as well as those in neighboring towns including Pilot Point, Krugerville, Providence Village, Cross Roads, Prosper, and Denton. Patients can count on us for ongoing preventive services as well as more advanced treatments that respond to active oral health and cosmetic concerns. We make care easier to access by providing evening hours and making Saturday appointments available. Our practice has also taken steps to ensure that we can respond to and assist patients who need our support for a dental emergency.
Convenient Location
We are conveniently located on Highway 377, right next to Ciera Bank in Aubrey. The Aubrey US Postal Service is also located just behind our office and Ciera Bank.
Friendly Care for Patients of All Ages
The Aubrey Dentist wants patients of all ages to feel confident in our support and comfortable throughout each visit. This is why we provide friendly greetings and calm, comforting interactions when providing care. Our treatment areas boast televisions that allow patients to stay entertained during appointments, and our waiting area provides a kid-friendly station with toys and games!
Dental Technology and Your Treatment Experience
The Aubrey Dentist relies on advanced technology to improve the evaluation and treatment experiences. Our patients benefit from advanced imaging technology such as our CBCT scanner, which produces remarkably detailed 3D models of teeth and oral structures, as well as digital intraoral sensors to provide better reviews and feedback on less accessible areas of the mouth. We also rely on superior materials, such as Hiossen implants, when caring for our patients.
Our goal is to make care efficient and comfortable while still ensuring that our patients enjoy a remarkable degree of care. To further protect your well-being, we strictly follow the guidelines of the CDC and Texas Dental Board in always keeping our spaces clean and hygienic.
Our Services
Meet Dr. Yoo
Dr. Yoo is proud to support the oral health needs of the Aubrey community and the neighboring towns of Denton County. He believes in providing the type of dental care he would want to receive himself, which means prioritizing honest and thorough feedback, gentle treatments, and care that is personalized for each patient's needs. 
Dr. Yoo grew up in southern California. He earned B.A. degree with multiple Dean's Honors List at the University of California Irvine, where he also received a minor in Information and Science. He continued his education at California State University Long Beach to earn his B.S. degree in Biology-Physiology, graduating with a 4.0 GPA. Then he earned his Doctor of Dental Medicine (D.M.D.) at Roseman University of Health Sciences in Utah. While there, he fulfilled multiple roles with ADEA and ASDA and received a leadership award at the Annual ADEA Conference. Following his graduation from dental school, Dr. Yoo completed residency at Montefiore Medical Center in New York City where he expanded his experience in oral surgery, endodontic, periodontic, prosthodontic and sedation.
When he is not seeing patients or attending dental seminars, Dr. Yoo enjoys traveling, hiking, reading, watching sports, and experimenting in the kitchen with new recipes.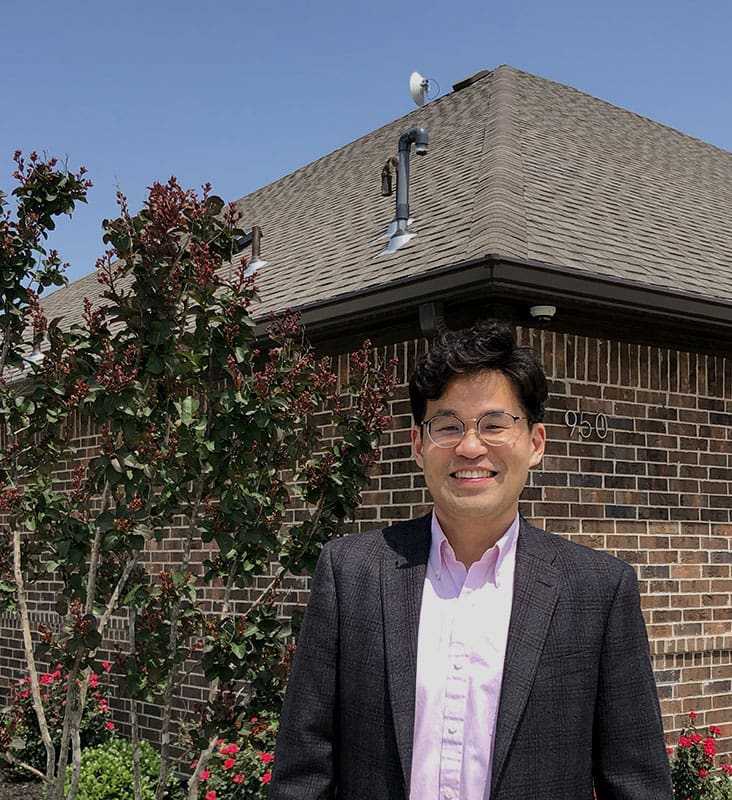 Dr. Yoo
Dr. Yoo's International Volunteer Experience
Dr. Yoo was one of the few individuals selected nationally to take part in the Give-Kids-A-Smile program in Missouri to help provide dental services for children who had limited access to oral health services.
In addition to his work with Missouri's Give-Kids-A-Smile program, Dr. Yoo has used his skill and training in dentistry in volunteer outreach programs. During an outreach trip to Guatemala, he and his fellow practitioners provided oral health services for more than 500 local patients who lacked accessible care. The services Dr. Yoo provided ranged from general examinations to more involved work, such as tooth extractions. He was also able to provide guidance on oral health matters to help people protect themselves against future threats.
Dr. Yoo in Guatemala for an Outreach Trip